Are you moving to a new property? Do you have specific landscaping needs? If yes, you can consider moving or relocating trees from your current property to the new one. There are professional large tree transplanting services, which can take care of varied requirements, including removal and relocation of complicated varieties. As in any industry, not all tree transplanting& relocation services are same, and it is prudent to do some initial research. In this post, we are sharing more on how to find the right service.
Review service profile
The role of a tree transplanting service extends merely removing and relocating a tree to a new place. Many companies also specialize in procurement of large trees, and some may even help in sourcing trees that are otherwise not available locally. Look for a service that has at least a decade or more of experience in tree moving and ask them about their regular clients.
Find more on the process
Have you ever wondered how a large tree is actually removed? Specialized equipment and tools are required for the same, and the whole process of handling the tree should be done in a way to reduce impact as much as possible. Most professional companies rely on hydraulic tree spades for the job, and many may recommend early spring or fall for tree removal and relocation. As a client, you need to know how they plan the transplanting solutions, and if they can offer details on remove of extremely large and old trees. In some cases, it may be necessary to relocate a tree for a small period of time, and an experienced service will offer that option, as well.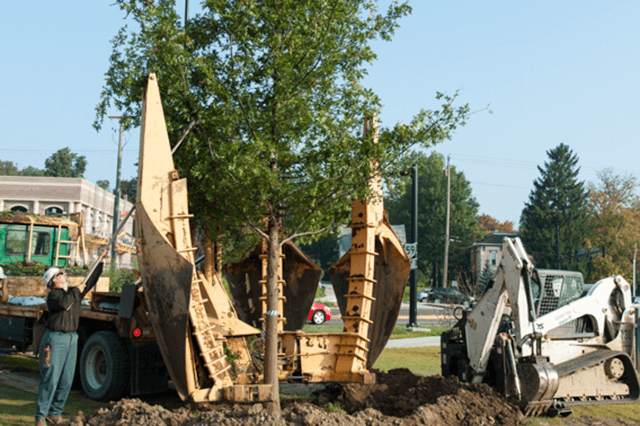 Get an estimate
Once you have figured out the trees & shrubs that must be removed and finalized the landscape design project for your new property, make sure to ask the transplantation service for an estimate. Do not select a company because they promise to move your trees at the lowest price. Instead, check for experience and overall expertise, and don't forget to find independent reviews on Google.
Many tree movers can help with landscaping goals and work in almost every state in the US. You can even expect to remove and transplant trees to other countries. Just take time to find the right company for the job, and don't forget to share your landscaping ideas, so as to get practical solutions.